The ukulele has finally got out of its ghetto! This traditional Hawaiian instrument inspired by the Portuguese "cavaquinho " is not anymore confined to folk or popular repertoire of the early twentieth century only. Used increasingly by folk – and even rock – musicians, the "cat flea " (one of the translations of the word " ukulele ") has gained a new notability in the musical world. Seduced by its inimitable voice overflowing of sunny accents, Philippe Bosset has designed two lines of strings that combine powerful resonances and contrasting tones.
– A " Black Nylon " line which guaranties the rhythmic clarity and beaded notes associated with the tradition.
– A " Titanium Nylon" line, based on the same ultra-smooth material used for the wetsuits donned by competitive swimmers, to offer an unusual sound to musicians looking for some originality.
So we can definitely state that, no, the ukulele – despite its diminutive size and its folkloric past – is not a toy, but a real rhythm and soloist instrument on which to be reckoned.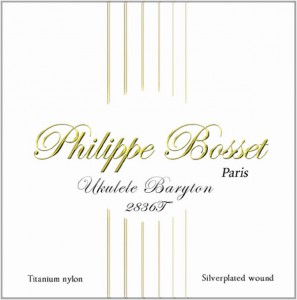 Jeu « Nylon Titane et basses filées »
Conçues pour Ukulélé Baryton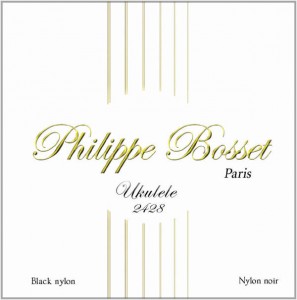 Jeu « Nylon Noir » pour retrouver la clarté rythmique et les notes perlées associées à la tradition.
Conçues pour Ukulélé Concert
Un jeu « Nylon-Titane» qui s'inspire des matériaux à la pointe de la technologie pour offrir une nouveauté bienvenue aux musiciens en quête d'originalité.
Conçues pour Ukulélé Soprano et Ténor.