Nowadays, thanks to the abundance of materials from all over the world, it is very easy to manufacture low cost strings.
However, developing a very high end guitar string is a true challenge, because of the numerous parameters and because of the difficulty of finding high quality materials.
Strings must have a perfect spectral balance from the low end to the high end, in terms of power, sensitivity and they must have a enhanced reactivity to befit various musical techniques.
The sound has to remain clear and definite throughout the whole spectral range. It shouldn't be flattened when picked strongly and should restitute all the subtleties of a "mild" picking.
Besides, strings need to have a perfect pitch on the whole diapason, they must have a good lifespan and they must keep their characteristics as long as possible.
It's a real challenge!
Like any Philippe Bosset string, the Prestige classical strings are manufactured with the uttermost care from the best materials and alloys.
The silver winding is done extremely slowly to avoid unnecessary heating of the core, which would tend to bend it out of shape.
Low wound strings: The copper silver gilded winding covers a multi-filament nylon core. The strings are then coated to delay sulfurization and improve their lifespan.
High plain strings: High-tech transparent nylon mono-filament.
The perfect balance!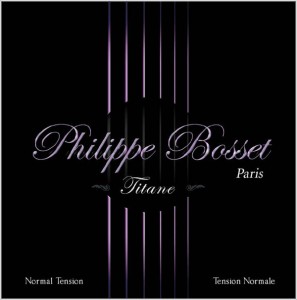 Always concerned to propose the greatest classical guitars strings in the world, Philippe Bosset innovates with brand new nylon strings. These new strings get a special high technology  titanium nylon
This technology uses the latest innovations, coming from the use in titane in sport, giving it outstanding properties, notably on the weight of the products it is used in.
The result is incredible, with a mellow sound, warm and powerful, someting beetween dark nylon and clear nylon.
It's really a Mellow Revolution !
The bass strings are the same as in our other sets of Philippe Bosset Classique Strings, with multi filaments, associated with an alloy of cooper and genuine sylver plating.
Normal gauge and high gauge are available in the Titane Line.